Ethanol Monitoring Solutions for Distilleries & Breweries
The fermentation process necessary for crafting beer and spirits produces a dangerous gas called ethanol, which means that ethanol is likely present in most breweries and distilleries across the country. Monitoring ethanol levels is crucial to maintain the well-being of employees and customers alike, requiring a reliable gas detection solution.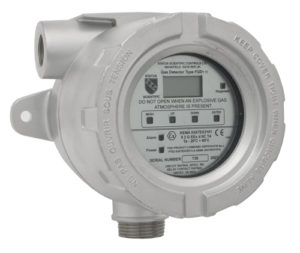 The EX-6100 Series from ENMET is certified explosion-proof by both IECEx and ATEX for use in hazardous Class 1, Division 1 areas where flammable gases are likely to be present. The transmitter includes an aluminum electronics enclosure and the choice of four different sensor types housed in stainless steel.
Features include:
Liquid crystal (LC) display

Two internal alarm and fault relays

Two inlet and outlet ports

Replaceable plug-in sensors

Nonintrusive calibration

24 VDC, 4-20mA
Additional options include:
Choice between an electromechanical sensor (for oxygen and several other toxic gases), an infrared (IR) sensor (for CO2 or hydrocarbons), or a catalytic sensor (for % LEL hydrocarbons)

316 SS enclosure

Remote sensor

Sensor weather guard
Additional Gas Detection Solutions for Distilleries & Breweries
The following sensors are also reliable options for detecting ethanol in distilleries and breweries:
RKI M2A:

The RKI M2A is an explosion-proof transmitter certified for use in both Class 1, Division 1 and Class 1, Division 2 areas. Use it as a standalone solution or integrate it with your existing system — either way, the RKI M2A is both incredibly accurate and easy to use.

Honeywell Sensepoint XCD:

The Honeywell Sensepoint XCD is an all-in-one gas detector that can be used both indoors and outdoors to monitor toxic, combustible, and oxygen gas hazards. Remote monitoring capabilities make this sensor ideal for areas that are hard to reach or out of the way.

TracXP:

Both

wireless

and

wired

gas sensors are available from

TracXP

to meet your exact needs. The TXP Wired Series consists of multiple control panels that interact with sensors, and comes in both single and dual formats. The TXP Wireless Series offers the added benefit of remote access through Wi-Fi.
Contact Hawk Equipment today for help deciding which ethanol monitor is best suited to your distillery or brewery operations, or to custom-design a gas detection system to meet your exact needs.